TGIF!
And I'll say it again --
TGIF!!
And I truly
am
thankful to be out of that office from hell for three days. I swear, those people I work with are crazy! And it would appear that their mission in life is to make
me
crazy. But you heard it here first -- it ain't gonna happen! Other crazy people abound as well, saying off the wall crap here, there, and yonder that just drives me berserk. But we ain't talking about that, either. We're going to
play
, damn it, and have a good time even if it kills us. So there.
Y'all play with the quizzes and have a great weekend. TGIF!

You are Catherine the Great!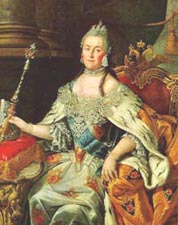 You are very intelligent and a socialist. It is very important to you that all people be treated equally in a society. You are able to fully comprehend social problems and you are outspoken when it comes to dealing with them.


You Were Born into the Metal Element

You are an energetic, active person who values ambition. You think success is important.

You are very unique and competent. You know how to live a good life, without following anyone else's rules.

You have to watch out for anxiety. Sometimes you find it hard to let go and relax.

You are stubborn and persistent. You won't give up out of principle, even if it's the right thing to do.

You Are Salty

There's something about you that makes the world a better place.

You make life more colorful, more flavorful, and more vibrant.

You get along well with others. You always have something to add.

Without realizing it, people can become very addicted to you.