I may be on the right career path, just plopped into the wrong niche. I mean, I write stuff every day. True, the judges and court clerks never turn it down, but it's pretty boring stuff. Sometimes it puts me to sleep in the middle of writing it. I need to clear my head, contort my parts into the lotus position, chant a little, and concentrate on figuring out how to write something the Pulitzer people would go gaga over. There's money in that, unlike the legal mumbo-jumbo junk.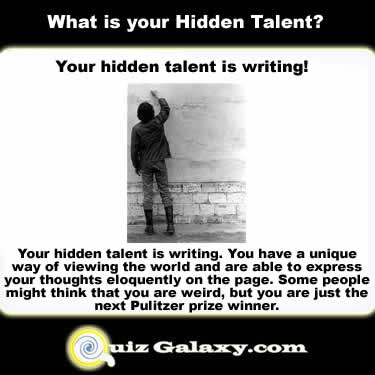 And sheesh, with my luck quotient, I ought to be able to think up something prize-worthy. First, however, I need to spend some time studying my bosses. Writers make up stuff and, really, that's what these guys do as well. In fact, they're so good at making up crap that they don't stammer, they don't blush, they don't even have to pause to take a breath. Once I glom onto their secret, that Pulitzer will be mine. Don't you think?
TGIF!
Your Luck Quotient: 65%

You have a high luck quotient.

More often than not, you've felt very lucky in your life.

You may be randomly lucky, but it's probably more than that.

Optimistic and open minded, you take advantage of all the luck that comes your way.